PlantWise has completed more burns in Michigan than any other contractor and is certified to burn in Ohio
Since our founding in 1998, we have completed nearly 1,000 burns totaling over 14,000 acres on public, residential, land trust, and corporate lands on remnant and planted sites. Burn units range from urban residential sites of 1/4-acre or less to rural sites of hundreds of acres in size.
PlantWise prescribed burns have proven effective at controlling numerous invasive species while simultaneously stimulating native plants and encouraging the return of a broader diversity of animals.
Protecting Rare Animals with Fire – North Oakland Headwaters Land Conservancy – Eaton Fen
University of Michigan Biological Station Research Plots
PlantWise Drone Videos – YouTube
PlantWise is insured with a policy that specifically covers claims relating to prescribed to burns (though we have never had a claim!).
At PlantWise, we use safe, proven techniques to complete successful burns. During our spring, summer, and fall burn seasons, we:
● Develop burn plans that outline the burn objectives, suitable weather
conditions, crew needs, contact information, and more;
● Secure necessary burn permits from the local fire jurisdiction(s);
● Work with landowners to notify neighbors;
● Conduct safe, controlled burns using a full complement of fire control and personal protective equipment.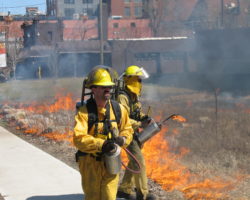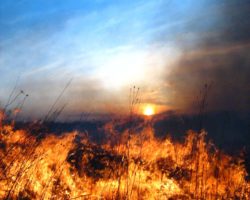 Fire was a key feature of many upper Midwestern landscapes prior to European settlement. Prescribed ecological burns are a way of managing prairies, savannas, oak woodlands, and many wetlands (all fire-dependent ecosystems) in a safe and controlled fashion.